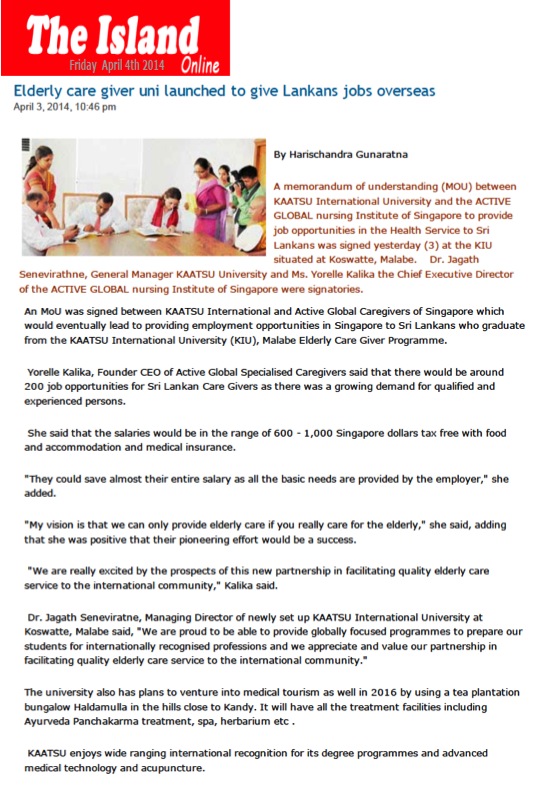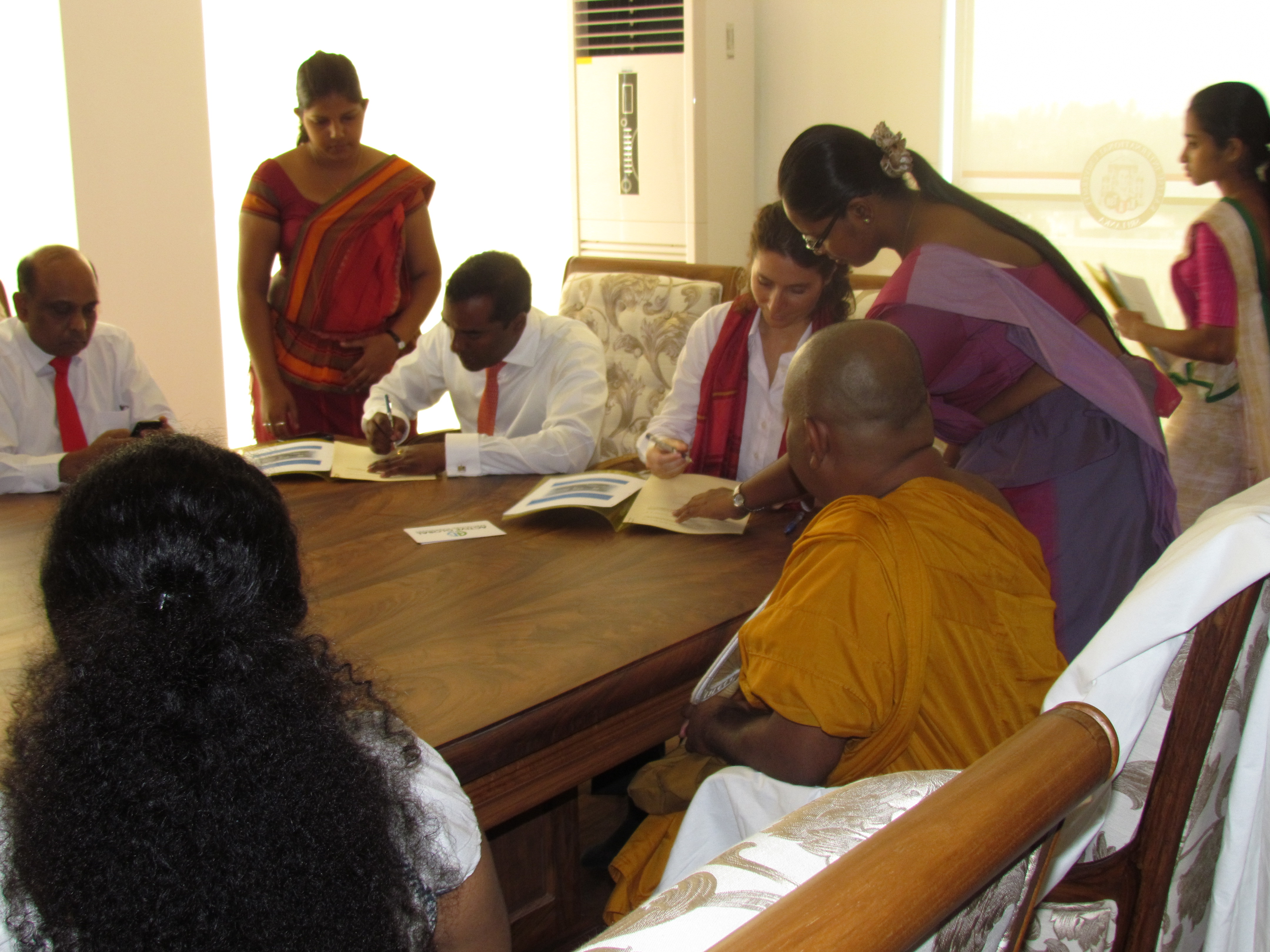 A new, innovative partnership, signed on April 3rd between KAATSU International University of Sri Lanka, and Active Global Specialised Caregivers of Singapore, sets out to provide good employment opportunities in Singapore to Sri Lankans who are graduates of the elderly caregiver program of the KAATSU International University. 
Rev Galagama Dammaransi Thero, Advisory Board Member of Green Cross of Sri Lanka, gave his blessings to the signature ceremony. Mr Hemantha Vijerathna – head of training dpt at Foreign Employment Bureau, Colombo, was also present.
While there is no shortage of Caregiver Training Programs in Sri Lanka, many fail to live-up to their promise of providing good employment opportunities at the end of their curriculum. In most cases, graduates of these programs face high placement fees to work abroad, and some of the 'caregiver jobs' offered are in fact maid jobs in disguise. This innovative partnership will solve this very important problem.
Under the terms of this partnership:
·       KAATSU International University (KIU) will conduct regular sessions of an advanced 4-months training program in Elderly care, equipping future caregivers with all necessary skills and practical experience to care for Geriatric Patients, with a particular emphasis on:
o   Assistance in Activities of Daily Living,
o   What to do in case of Emergencies,
o   Specific training modules on Dementia and Stroke, which are two conditions with high prevalence in Singapore,
o   Introduction to Holistic Care,
o   Correct and Safe Patient transfer techniques in a home care situation.
·       Active Global Specialised Caregivers will offer Caregiver employment opportunities in Singapore to KIU graduates. Recruitment will follow strict ethical guidelines, and no agent fee will be perceived from the candidates. The job offered will be focusing on 'Live-In Caregiver' assignments for sick patients. The caregivers will benefit at all times from the professional support of our team of senior nurses in Singapore. (As per Singapore regulations, this employment opportunity will be open only to female candidates aged 23 to 50 years old)
Yorelle Kalika, Founder and CEO of Active Global Specialised Caregivers in Singapore said "We are very excited by the prospects of this new partnership, as we are facing a sustainable and increasing demand for professionally trained caregivers with the right service attitude. We look forward to welcoming the graduates from KAATSU International University to Singapore. We also would like to take this opportunity to thank the Sri Lanka High Commission in Singapore for their support of our ethical recruiting model"
Dr. Jagath Seneviratne, Managing Director, KIU said: "We are proud to be able to provide globally focused programmes to prepare our students for internationally recognized professions. It is with great pleasure we appreciate our partnership with Active Global Specialised Caregivers in Singapore in facilitating quality elderly care service to the international community"
For more information and enrollment to KAATSU International University's Elderly Caregiver Training program: call +94112741042, email: info@kiu.lk or Website:  www.kiu.lk
For more information on Active Global Specialised Caregivers: www.activeglobalcaregiver.sg